8 Ways Of Aboriginal Learning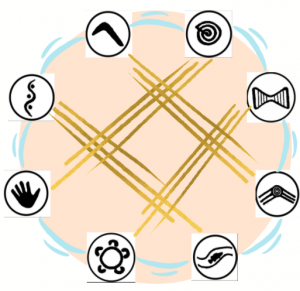 At Djidi Djidi we approach our learning in a variety of ways. A priority for us is to acknowledge the importance of Aboriginal identity and ways of learning. We do this in two ways:
We explicitly teach Aboriginal and Torres Strait Islander Content
We strive to embed Aboriginal Ways of Learning Across our Curriculum everyday
We send home a portfolio of work that shows how we use Aboriginal ways of learning within our everyday subjects. Each piece of work has a 'tag' that explains the activity and how it links to one of the 8 Ways of Aboriginal Learning. The samples give a snapshot of what your child does in class on a daily basis and demonstrate how we value Aboriginal perspectives across the curriculum
The portfolio will come home in Term 3. In Terms 2 & 4 you will receive a formal school report.
Children in Kindy and Pre-Primary have a much larger portfolio that showcases their work. You will be invited into classrooms to view this portfolio. It will be sent home at the end of the year as a keepsake.
Below you will find a picture of the 8 Ways Symbols and what they mean. We are hoping to redesign the symbols to capture a more Noongar feel. We'd love to hear your suggestions.
Story Sharing We connect through the stories we share
Learning Maps Explicitly mapping/visualising processes
Non-Verbal We see, think, act, make and share without words
Symbols and Images We use images and metaphors to understand concepts and content
Land Links Place-based learning. Linking content to local land and place
Non-Linear We put different ideas together and create new knowledge
Deconstruct/Reconstruct We work from wholes to parts. Watch then do
Community Links We bring new knowledge home for our mob